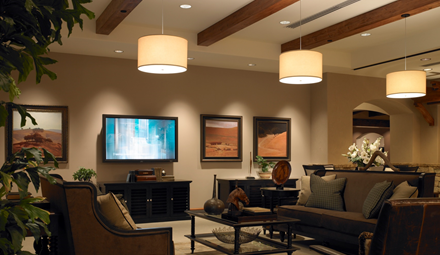 If you are getting ready to construct a new home, putting in major renovations, or creating an addition, NOW is the time to partner with ACS to assist in the design of a centralized lighting control system from Lutron. Why? Besides having complete flexibility with switching, dimming, energy management and shade control in one system, consider this…
Aesthetics- ACS can work with you, your architect or interior designer to minimize clutter on your walls with a well-designed Lutron centralized lighting system. Instead of wiring local switches for each different zone of light in a room which results in an unsightly bank of switches and dimmers, you can have a single, elegant keypad that comes in a variety of finishes to match your décor.
Flexibility- You have the ability to control any one light, shade, and temperature zone from any single button on a keypad, touch screen or smart device. You maximize convenience and can accommodate a multitude of lifestyle applications for you and your family. When your needs or preferences change it's easy to make adjustments to your settings.
Scalability – Centralized lighting systems offer maximum scalability. Everything from a Manhattan apartment to a sprawling Beverly Hills estate can be accommodated. Get ACS involved during the design phase of your large residence to collaborate with architects, designers and general contractors and ensure appropriate wiring infrastructures is implemented.
Reliability – ACS works with Lutron because their design, quality control and performance are unsurpassed in the industry. Wireless lighting control has proven to be effective, yet nothing can replace the tried and true results of a centralized system using dimming panels hard wired to local keypads via low voltage. In an emergency, multiple redundant systems further ensure uninterrupted operation.